About Me
Hallo, my name is Oliver, but I also go by "Bow"!
I am an autistic, Scottish, bi ace, 17yo tulpamancer! I am many things!
Masters Of The Universe is a big special interest for me! I love the 80's toons as much as I love the 2018 She-Ra!
She-Ra character I am most like:
"Fiercly loyal to your friends, you balance self-care and care for others brilliantly, and you know friendship is hard work. Just remember that friendship goes both ways, and you deserve friends who put in the hard work too."
Fave Member of the Princess Alliance

Entrapta
As an autistic guy, I relate to her! I headcanon her as neurodivergent and not only that, I admire her acceptance of "imperfection" and how she does not try to prove herself to anyone. She is 100% herself, regardless of how others feel and I admire that!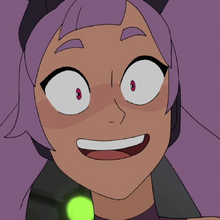 Next one(s) is:
Glimmer
Adora
Bow
(he's the best princess, of course)
Favorite pages