Jurassic World: Dominion Dominates Fandom Wikis - The Loop
Play Sound
| | | |
| --- | --- | --- |
| " | This place used to be a safe harbor for travelers across the galaxy. Then, Horde Prime arrived. Now we're just scavenging the remains, same as he did to our home-world. | " |
The Unnamed Planet debuted in the episode "Stranded" when Glimmer, Bow, Adora, and Entrapta had to stop and refuel Darla (Mara's ship).
Darla's sensors show that the planet has a rocky debris field surrounding it, a dense atmosphere, and a crystalline surface. Darla's records also showed that the planet had a natural supply of the exact fuel crystals they need called "Thulite". Thulite crystals are pink, and Darla's record shows the planet's exterior covered in them.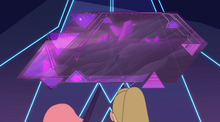 When the crew arrive, they see that the planet has been ravaged by Horde Prime, a spire from the first leg of his conquest visible nearby in the desolate landscape. The landscape itself is covered in dust and no vegetation, and some bones of an assumed native species are also shown. Unusually though, despite the planet's lack of vegetation it still has conditions that are suitable enough for the crew to not need to wear their spacesuits, so it is assumed that the atmosphere is similar to Etheria's.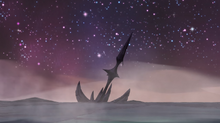 The planet is frequently rocked by seismic activity, earthquakes and fissures becoming a problem for the crew and the Star Siblings during the episode. The Star Siblings are also stranded on the planet scavenging for Thulite, and they found a small portion of it inside the cave system, but were unable to reach it because of a large chasm.
When Adora falls into a fissure, the planet is shown to have a more crystalline interior, blue and purple crystals covering the walls and ceiling of the cave system.
Gallery