The Sword: Part 1 is the first episode of season 1 of She-Ra and the Princesses of Power. It is the first part of the special The Sword.
Synopsis
Sneaking out after a training mission, the Horde soldier Adora finds an uncanny sword in the Whispering Woods. Princess Glimmer wants it for the Rebellion.
Characters
Plot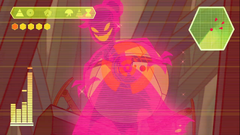 Using her glasses, Adora yells out and dives as Evil Princesses fire upon the team. The team splits and searches for cover, dodging attacks. Adora throws a grenade that embeds itself into the machine creating the EPs, giving the team time to run for cover. But in their pursuit, Kyle, one of the soldiers, is hit by a laser. He falls, and when Adora pushes him to his back, a red "x" appears on the upside down green pentagon in his armor, presumably marking him dead. His fall seems to activate more EPs that shoot at the still standing soldiers. They run, the EPs giving chase, as Kyle lies on the ground as if paralyzed by the X on his chest. We can see that there is a feline looking woman watching from the trees, following everyone, letting everyone scramble around. The three remaining soldiers put up their shields, trying to deflect the lasers falling from above as they run. Suddenly, Adora stops, and a female soldier yells her name as the floor turns red beneath her. There's a beeping sound, and the hexagon-shaped tiles she'd been standing on begin to fall away. She jumps to relative safety, but the tiles act as a trigger, awakening a Boss. The Queen of the Princesses. It fires at them, but Adora takes out a retractable staff and uses it to vault up on top of the machine. She destroys most of it, and an explosion takes it out the rest of the way, Adora leaping to distance herself from the carnage. She lands on the ground, dazed and confused, as a girl walks in front of her. The girl kicks the machine back down it's hole, turns and looks at Adora. She points at the floor, just in time for Adora to see the red tile engage. She falls down the hole. The girl,
Catra
, leans over the opening to see Adora, hanging by her staff, over the pit. They share some words about how Catra let everyone do the hard work, and waited until the job was done before slipping out of the shadows before Catra laughs and offers to help her out of the hole. The intercoms come on and announce that the exercise has been successfully completed.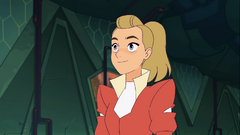 While walking, Shadow Weaver tells Adora that she's a prime candidate for Force Captain and that
Lord Hordak
has elected her to lead a squadron into Famor. While she's excited about seeing active duty, when she inquires about her team, Shadow Weaver tells her that they are not ready like she is. They'll only slow her down. Only she will go to Famor. Adora tries to explain that her team has been working to see active duty forever, that they should have the same opportunity. But the Weaver tells her that she raised her to be Force Captain, to lead a squadron, and to liberate the world. This is what she was made to do. The Weaver saw her talent from the moment she found her as an orphaned child and took her in. With her, they can crush the rebellion once and for all.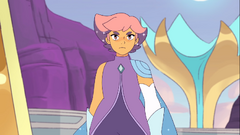 At a white and gold castle on an island surrounded by aqua waters, a curvy girl with purple and pink hair is "sent in". She walks into a throne room where she kneels and greets the woman on the throne. The woman, a queen, tells her that she was told that she led the rebellion into danger by staying when she was ordered to retreat. The queen tells her that she was reckless and put herself and the other rebels in danger. The girl argues that fighting is supposed to be dangerous. And that being a rebel means fighting. She asks the queen, "how are we going to hold our own against the Horde if we keep retreating? Pretty soon, we won't have anything left to defend." The Queen stands and argues against her backtalk, but the girl, Glimmer, asks her why she made her a commander if she won't let her fight. To which the queen yells back that she's Grounded. Because the queen is her mother. And she's embarrassing her in front of her court. Glimmer begins to argue back, but is sent to her room before she can get too far.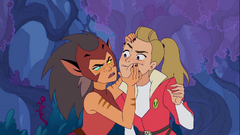 She lands on a bush. When she opens her eyes and gets up, she notices a sword covered in vines. Thinking it cool, she reaches out and touches the pommel. Upon touching it, a brilliant light erupts from the sword where her hand and sword meet. She hears a female voice. The Voice says "Balance must be restored, Etheria must seek a hero," A baby cries, "Adora," The voice calls, "Adora," Then the voice disappears, replaced with Catra's. Adora opens her eyes to see Catra leaning over her. She tells Adora that the skiff was driven into a tree. And who's to take the blame is up for debate. Adora then starts to panic, asking about the sword and the light and wondering aloud where it could have gone. Catra asks her if she's brain damaged. She then helps Adora onto the skiff and takes her home.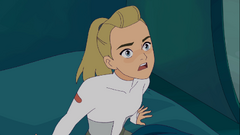 Meanwhile, Adora is in bed, hearing that same voice in her dreams calling her name. She's woken up by the voice and quickly puts her clothes on, not realizing that Catra is awake and watching her. On her way out, Catra catches her and asks her what she's doing. She tells her friend that she's got to go back to the woods to figure something out, electing not to tell her that she's going back to the forest because of the voice in her head. Naturally, Catra is concerned about Adora. Leaving the grounds in the middle of the night for a forest of monsters is not something Adora typically does. So she tries to go with her. But Adora refuses to jeopardize her friend's neck. If someone found out they were gone, they'd both go down for it. So she asks her to cover for her and tells her she'll be back before anyone knows she's gone.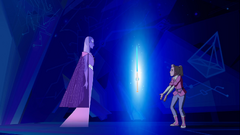 Adora then appears in a different dimension, a world of technology and crystal. A woman is there, she greets Adora by name. She tells her that she is Light Hope and that she has been waiting a long time for her, but she could not reach Adora until Adora forged a connection with the sword. Light Hope tells her that the Sword is meant for her, that Etheria has need of her, and she asks her if she will answer it's call. Will she fight for the honor of Grayskull? Adora tells her that she doesn't understand. That she needs more answers. But the woman simply tells her that she will understand eventually-- in time-- and fades back into the light from which she came.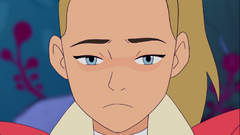 When she wakes, her hands are bound. Glimmer has the sword and calls her a Horde spy. She accuses her of trying to steal something that belongs to the rebellion. The Sword. And when Adora argues that she found the sword first, Glimmer tells her that the whispering wood is under the protection of the rebellion and that everything in it belongs to the Rebellion. She tells Adora that they're taking her back to Brightmoon for a proper interrogation. But on the side, she talks with Bow, giddy with excitement at their success. They have a first One's Sword and a Horde Spy. Her mother is going to be so proud. But on their way out, Bow is concerned that they're lost in a darker side of the forest. He practically grew up in the woods, but he's never seen the part where they're at. Glimmer tells him to trust her and teleports elsewhere. Bow apologizes for Glimmers snappiness, explaining that she's usually really nice. But Adora doesn't care. She asks him how he could follow her being that she's a princess. Princesses are evil monsters. They're violent creatures that don't know how to control their magical abilities. Bow calls her out on having never met a princess, something she can't exactly deny.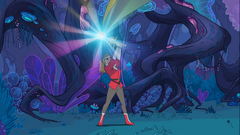 Suddenly, Glimmer comes running back to them, yelling that some giant monster is after her. Bow asks her how big it is but before she can answer, it breaks through the ground. Huge. As large as the trees are tall. Glimmer teleports away before it can impale her with its spider-like legs. She attacks it with sparkles, but it only seems to make the insect monster angrier. Adora stumbles, but with her hands tied, she can't catch herself and her leg gets pinned in a crack in the earth. Bow jumps in front of her and attacks the bug monster so she can get free, shooting it with an arrow that turns into a gummy green slime over its pincers. Glimmer attacks it spasmodically with glitter bombs until it slaps her away like a pesky fly. Seeing Glimmer down, the Monster crawls for her, but Bow shoots another arrow, this one acting as a rope that holds the monster back. While Bow tries to keep the monster held back, Adora is able to climb free and goes for the sword. Bow is pulled forward and slams into a tree, landing on top of Glimmer. Glimmer tries to keep the monster back with more glitter punches, but the monster is unphased by her efforts. With the sword in hand, Adora calls for the Bug monster. And it rushes her. But Adora, not knowing how to use the sword, and without the full use of her hands, is stuck in a tight situation.