Wiki Targeted (Entertainment)
Play Sound

The Coronation is the first episode of Season Four and twenty-seventh episode overall of She-Ra and the Princesses of Power. It was released on Netflix with the rest of Season Four on November 5th, 2019.
Synopsis
The day of Glimmer's coronation arrives, overshadowed by grief. Accompanied by Adora and Bow, she embarks on a quest to find the Chamber of Queens.
Plot
Adora and Bow, together with the rest of the Princess Alliance, gather for the coronation of Glimmer, who is to be crowned Queen of Bright Moon. However, Glimmer is still grieving for her mother Angella, and is upset at the festive atmosphere and the attention being lavished upon her. Adora and Bow are in a mutual agreement that they should distract Glimmer from the recent death of her mother, which, as they later discover, is the opposite of what she wanted.
In Hordak's Sanctum, Catra is told by Hordak that the signal to Horde Prime was sent through when she opened the portal.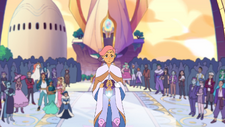 The coronation ceremony begins, and it is announced by the scroll that the key coronation ritual involves traveling into a magical cave below Bright Moon (Chamber of Queens). During the quest, Glimmer, Adora and Bow encounter the Bright Moon Guardian, which attacks them. After some effort and confessions, Glimmer is able to calm the giant slug down by coming to terms with her mother's loss and embracing her powers. She claims the full power of the Moonstone and is officially pronounced queen.
Meanwhile, Hordak blames Catra for the recent debacle involving the Portal. Scorpia wants to retrieve Entrapta from Beast Island but Catra perpetuates the lie that Entrapta sabotaged the portal.
"

Hey, cheer up, boss. You said it yourself. Big, bad Horde Prime got your signal. Don't you want to conquer Etheria before he gets here? He doesn't sound like the type to accept failure.

— Catra

"
Later, Catra defeats Hordak in a one-on-one combat by removing his crystal and forces him to finally submit.
Characters
Organizations
Artifacts and tech
Locations
Transcript
See: The Coronation/Transcript
Gallery
Trivia