Welcome to the She-Ra Wiki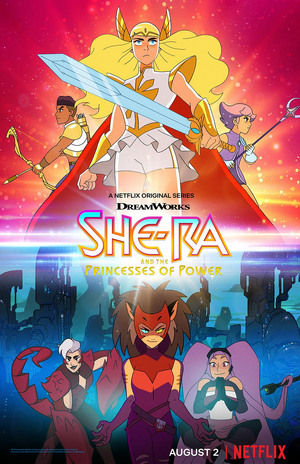 She-Ra and the Princesses of Power is an animated fantasy web television series developed by award-winning author Noelle Stevenson and produced by DreamWorks Animation. It is a reboot of the 1985 Filmation series, She-Ra: Princess of Power.
The series tells the tale of an orphan named Adora, who leaves behind her former life in the evil Horde when she discovers a magic sword that transforms her into the mythical warrior princess She-Ra. Along the way, she finds a new family in the Rebellion as she unites a group of magical princesses in the ultimate fight against evil.
The latest season finds Adora learning that many things in her past are not what they seem, leading her to embark on a journey of discovery to the desolate Crimson Waste where she meets Huntara. Punished by Hordak for Shadow Weaver's escape, Catra and Scorpia also find themselves sent to this land of cutthroats and criminals on a mission to aid Hordak and Entrapta's master plan. Feeling pushed aside, Catra will stop at nothing to bring Adora and the Princess Alliance down as the fate of Etheria hangs in the balance.
Season 3 began streaming on Netflix on August 2, 2019.
The She-Ra Wiki
We're an encyclopedia run and maintained by people just like you! Created by fans, for fans, the She-Ra and the Princesses of Power Wiki is dedicated to building a comprehensive and informative resource about all things She-Ra. For the honor of Grayskull, sign up for a free account and start editing today!
Community content is available under
CC-BY-SA
unless otherwise noted.