Wiki Targeted (Entertainment)
Play Sound
Season Four is the fourth season of She-Ra and the Princesses of Power. Its release date was November 5, 2019.[1]
Plot
Season 4 begins with the respective rises of Queen Glimmer as leader of The Rebellion and Catra as co-leader of the Horde. As the Horde makes advances on The Rebellion under the looming threat of Horde Prime's arrival, the Princess Alliance makes heroic strides but begins to disagree on the best way to defend Etheria. Ultimately, a shocking discovery about Etheria itself causes Adora to reconsider everything she thought she knew.
This season introduced Double Trouble from the original toy line, a character which didn't appear in the first series. Instead of being Glimmer's cousin who is part of The Rebellion, Double Trouble is part of the Horde and is a green elven shapeshifter mercenary who is non-binary. Catra has brought them on for protection and counsel.
In a season where relationships and power dynamics are in constant flux, the cast gave a sneak peek inside other pieces of the season including new character designs for Glimmer and Catra, Lauren Ash shared a clip from an episode focused on Scorpia, and Stevenson teased that there's a special episode called "Boys' Night Out" that includes a couple musical numbers.
Background
Noelle Stevenson was credited as saying "we now have four arcs of 13 episodes done" [2]
Episodes
Media
Promotional Images
Stills
Trivia
Miscellaneous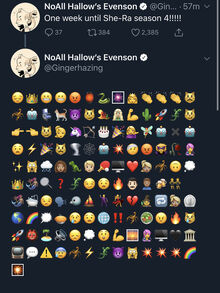 In preparation for Season 4, showrunner Noelle Stevenson summarized the season with a number of emojis on Twitter, similar to how she did for Season 2 (and says she will do for Season 5, at the time of editing this).
Theories
References