Perils of Peekablue is the seventh episode of Season Five and forty sixth episode overall of She-Ra and the Princesses of Power. It was released on Netflix with the rest of the fifth season on May 15, 2020.
Synopsis 
Sea Hawk makes a plan and gathers his crew for a secret adventure. Everything is going according to plan until an unexpected surprise forces them to think quick on their feet!
Plot
When Darla's crew is a day from arriving to Etheria, Glimmer, Bow and Catra mess with Adora as she tries to summon She-Ra.
On Etheria, Sea Hawk formulates a plan to contact Prince Peekablue by sneaking into the Enchanted Grotto's underwater soiree. He is hoping to get Peekablue to use his farsight to help the Rebellion send a message to She-Ra. To carry out the plan, Mermista gives everyone secret aliases, with Scorpia's being "Lynda D'Ream" and Perfuma's being "Tara". Outside of the planning session, the chipped Spinnerella overhears the plan, then goes to Netossa to try and chip her. However, Netossa is too busy to be bothered. Both Netossa and Swift Wind comment on Spinnerella's strange behavior, and later Netossa finds her wife having a secret discussion with an unnamed Minotaur.
Sea Hawk and company bluff their way into the soiree where they find out that most of the guests have a grudge against Sea Hawk, so he has to keep hiding, ambushing and tying up his enemies with Mermista. Still hiding behind the bar with Sea Hawk, Mermista reluctantly tells the sailor that she may have set a boat on fire, just a tiny bit to see what it felt like, which Sea Hawk adores but forces them to hunt down yet another person.
Perfuma and Scorpia have a heart-to-heart where Perfuma encourages Scorpia to not let her dreams of singing go unfulfilled, leading Scorpia to sing a song beautifully. After her number she goes backstage and starts to talk the prince into helping them, but as they talk the princess realizes something is amiss. After questioning the prince, she uses her stinger to incapacitate Peekablue. Peekablue then transforms into Swen, Catra, Bow, Glimmer, Adora, and finally into Double Trouble in quick succession.
Perfuma binds the shape-shiftier so that they can interrogate Double Trouble. Double Trouble tells the crew that there was little choice but to masquerade as the prince since leaving the Fright Zone for protection. Double Trouble also claims to know where She-Ra is, having posed as one of Prime's clones to get in with Prime's group, only to find it boring. Finally, Double Trouble reveals that half of the party goers are chipped, She-Ra is returning with Catra, and Prime is ready for She-Ra's return with a blockade.
Netossa then confronts Spinnerella about her strange behavior, and she responds by telling her beloved that she is under Prime's control as, is everyone else in the village. Spinnerella attacks Netossa and is joined by a chipped King Micah, who attacks Frosta and Swift Wind. Netossa throws a net over her attackers and flees with Frosta on Swift Wind.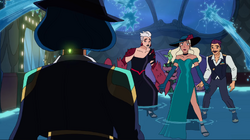 Mermista joins the gang questioning Double Trouble and shatters the glass that shields people from the sea outside of the building, therefore revealing that she had been chipped moments before. Following Double Trouble's instruction, they rush to the stage. Sea Hawk, Perfuma and Double Trouble escape using an elevator that descends from above, leaving Scorpia and Mermista behind.
Aboard Darla, Mara's ship, Entrapta contacts the rebels and Perfuma responds, warning them of Prime's blockade and telling her that many, many friends had been chipped.
Characters 
Organizations 
Technology
Locations
Transcript
See: Perils of Peekablue/Transcript
Community content is available under
CC-BY-SA
unless otherwise noted.