Wiki Targeted (Entertainment)
Play Sound
Note to avoid confusion: This article will use he/she/they pronouns for Stevenson as they actively go by any/all pronouns.
Noelle Stevenson is an American cartoonist and animation producer.
Description
Noelle has been the showrunner, developer and executive producer of She-Ra and the Princesses of Power and voices the character of Spinnerella in the series. She's also known as the creator of Nimona and co-writer in Lumberjanes.
Education
Stevenson attended the Maryland Institute College of Art and graduated from MICA in 2013.
Career
In the summer of 2012, Stevenson interned at BOOM! Studios and later helped develop and write Lumberjanes. Also in 2012, soon after posting the first few installments of Nimona online, they signed with HarperCollins to publish Nimona.
They also did freelance illustration for Random House, St. Martin's Press, and Label Magazine. She has also worked with Ryan North on his Kickstarter-funded book To Be or Not to Be, a choose-your-own-adventure-book based on Shakespeare's Hamlet.
They worked as a writer for Marvel Comics, made a guest appearance in two episodes of Critical Role, and in 2016, became executive producer, showrunner, editor, and actor on DreamWorks Animation Television's rebooted She-Ra and the Princesses of Power. In 2015, they started working on the show's bible, eventually becoming head showrunner and executive producer.
In March of 2020, Stevenson released a comic-memoir about her life leading up to their late 20s called "The Fire Never Goes Out."
Personal Life
Noelle grew up in the United States, in North Carolina with her parents and siblings. In July 2018, she got engaged to fellow cartoonist Molly Ostertag. In September 2019, they got married.
On July 14, 2020, Stevenson came out as nonbinary.
Trivia
Stevenson voices Spinnerella on the show, and also the voice message for Serenia in Return to the Fright Zone.
In the episode "Princess Prom" he and his then-fiance appeared as cameos. They appeared again in the Season Four episode, "Coronation".
During a Twitch livestream, Stevenson and her wife created "Finn", a non-canon nonbinary child of Adora and Catra. When asked to draw what Catra and Adora's future child would look like, Noelle made Finn a blond and blue-eyed cat person. They have mentioned that they dyed their hair blonde to look more like Adora. Their coloring is slightly lighter brown compared to Catra's. Stevenson mentions that because of Catra and Adora's upbringing they tended to spoil Finn, but were also overbearing which causes Finn to rebel against them a lot.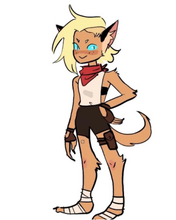 Bibliography
Graphic Novels
Nimona (w/a, HarperCollins, 2015)
BOOM! Studios
The Sweater Bandit
Desert Treasure

Lumberjanes #1–17
Sleepy Hollow 4 #1–4
Marvel Comics
Runaways vol. 4 #1–4
Thor Annual #1, April 2015, collected in Volume 2: Who Holds the Hammer?
DC Comics
Wonder World; Sensation Comics Featuring Wonder Woman #23 & 24, February 2015
Awards and Nominations
They have too many awards and nominations to put on this page, please see Wikipedia: https://en.wikipedia.org/wiki/Noelle_Stevenson#Awards_and_nominations
References