"

...I´ve got Broom here, and my friend Loo-Kee...

— Madame Razz telling Adora that she's not lonely living in the

Whispering Woods

.

"
Loo-Kee is a small creature who resembles a pixie. He has not had any dialogue or been seen and remains a character that only Madame Razz knows in She-Ra and the Princesses of Power. Though he hasn't been sighted much, he appears to have blue hair, a pink little nose and a pale yellow skin tone.
In the original 1980's series, he is a tiny slim creature with pointy ears, blue hair and a long bushy tail of the same color.
A likeness of Loo-Kee can be first seen in a picture in the third episode and also is mentioned by Madame Razz as her friend, although one is led to interpret this information as just a figment of her imagination.
Additional appearances of Loo-Kee or Loo-Kee-like creatures are in Season One, episode 8, "Princess Prom" (cameo in crowd), and twice in Season Five, episode 9, "An Ill Wind", first in footage of uprisings that Horde Prime is reviewing, and later on a tapestry in the shop in Erelandia.
Trivia
Unlike this series, in the original show, Loo-Kee did always talk and it was to the audiences at the end of every episode, thus making this game more implicit throughout the show. He would appear again at the place where he had concealed himself and then proceeded to teach the corresponding moral to the audience.
Other times Loo-kee appeared include his brief appearence on Horde Prime's screen, and also in Female Shop Keeper's shop.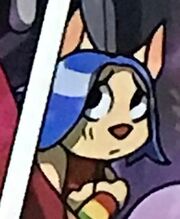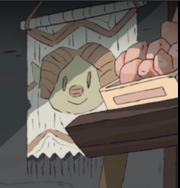 Community content is available under
CC-BY-SA
unless otherwise noted.