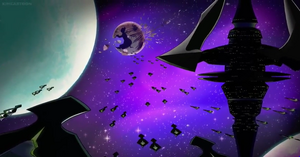 Horde Armada was a giant starship fleet of the Horde empire. Horde Prime's ship the Velvet Glove is the flagship. 
Appearance
Ships have a sharp geometry and they are dynamic in shape. They look like arrowhead and they have a dark gray titanium color.
History
Past
Horde Prime lead his mighty armada and conquered the vast majority of the known universe. (That could include Eternia).
Season 3
Horde Prime got Hordak's distress signal through the portal which he opened with Entrapta's help and his fleet began flying on route. Adora destroyed Hordak's device but it was too late.
Season 4
The armada arrived at the planet Etheria just as it was freed from the dimension known as Despondos. Horde Prime beamed up Hordak, Glimmer, and Catra to his ship with a teleportation ray.
Season 5
TBA
Gallery
Trivia
N/A
Community content is available under
CC-BY-SA
unless otherwise noted.